Sep 2, 2021 09:34 AM Central
Joyce Fisher
Give your week a boost with back-in-stock products! Use the "Place an Order" button on joyce-fisher.com, or log into your Young Living account, to find
AgilEase
and other familiar favorites available for purchase. AgilEase is a joint-health supplement that helps to support your active lifestyle with ingredients like frankincense powder, UC-II undenatured collagen, and essential oils.
Restocked products will be available for one-time purchase and subscription with no limits. Grab these go-tos today at 10 a.m. MT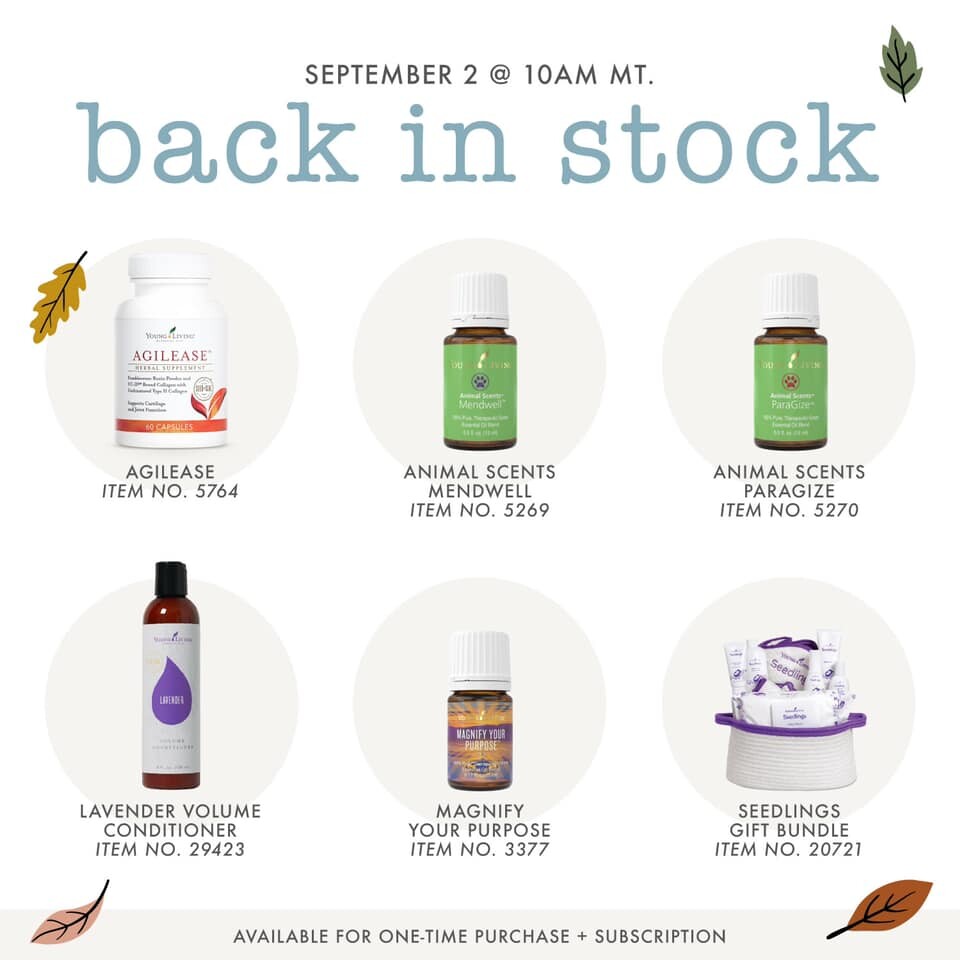 AgilEase
is a joint health supplement that supports healthy cartilage, flexibility and mobility, and the body's natural response to inflammation after exercise. With a powerful blend of ingredients—including frankincense powder, UC-II undenatured collagen, and an essential oil blend of Wintergreen, Copaiba, Clove, and Northern Lights Black Spruce—AgilEase can help you protect your joint and cartilage health and gain greater mobility and flexibility through the reduction of inflammation.
• Supports healthy cartilage and joint health
• Supports the body's natural acute inflammatory response associated with exercise in healthy individuals
• Helps support healthy joint flexibility and mobility
• Formulated with ingredients and essential oils for healthy joint support
• Helps with joint discomfort to improve quality of life
• Formulated with ingredients to help support cartilage and joint function
Animal Scents Mendwell
is step three of Young Living's three-part system to support pet recovery from minor scrapes and scratches. This prediluted, premium essential oil blend supports your pet's natural healing process by soothing and moisturizing dry, sensitive, and distressed skin. The aroma creates an uplifting environment and promotes feelings of health and wellness for your pet.
• Best when used as part of a three-part system: PuriClean™, Infect Away™, and Mendwell
• Supports your pet's well-being and natural defense system with an exclusive blend of Myrrh, Hyssop, Frankincense, and other premium essential oils
• Soothes and moisturizes dry, sensitive, and distressed skin
• Formulated without synthetic perfumes, dyes, artificial colors, or fragrances
Animal Scents ParaGize
was developed to support pets with the settling, grounding properties found in Ginger, Anise, and Peppermint premium essential oils. This relaxing, quieting blend can be applied to your pet's abdomen or diffused to support your pet with its comforting aroma.
• Supports your pet's natural cleansing system
• Relaxing and quieting for pets
• Can be used topically or aromatically
• Formulated without synthetic perfumes, dyes, artificial colors, or fragrances
Young Living's exclusive
Lavender Volume Conditioner
nourishes hair for a fuller-looking, healthy mane. Infused with eight premium essential oils chosen by founder D. Gary Young especially for those with fine or thin hair types, and created with a combination of moisturizing plant oils, butters, and botanical extracts, this conditioner helps to strengthen hair, add shine, and condition the scalp. Free from heavy silicones and synthetic conditioning agents, Lavender Volume Conditioner is lightweight enough for daily use and leaves hair full of soft body and bounce.
• Formulated for all hair types but ideal for fine, thin, and/or limp hair
• Infused with the fresh, floral, and calming aroma of Lavender premium essential oil
• Restores moisture and shine without weighing hair down
• Gently conditions to soften, smooth, and improve hair manageability
• Adds lasting volume without silicone ingredients
• Formulated without harsh sulfates, parabens, silicones, preservatives, synthetic colors or fragrances, phthalates, DEA, or animal-derived ingredients
Magnify Your Purpose
is a spiritual blend of 10 essential oils: Sacred Sandalwood, Sage, Coriander, Patchouli, Nutmeg, Bergamot, Cinnamon Bark, Ginger, Ylang Ylang, and Geranium. It has an aroma that fosters a positive attitude, enabling you to rise above adversity. Use it when you are coming into your creativity and making big, personal changes or transitioning into spiritual work. Magnify your commitment to your purpose and manifest your intentions with this oil blend as your tool.
• Has an uplifting, creative aroma
• Can be used as an excellent complement to daily meditation or spiritual practice
• Supports you in seeing and moving forward into your life's purpose
The
Seedlings Gift Bundle
is the perfect way to provide you and your baby with naturally derived, premium essential oil-infused products that you'll both love. With gentle baby wipes, calming baby wash and shampoo, essential oil-infused baby lotion, and a hooded bath towel, washcloth, and basked made from unbleached cotton, you will have the basics to care for baby from bath time to bedtime and a storage option for your convenience. The Seedlings Gift Bundle is also the perfect starter gift for any new parent or caretaker.