We celebrate Swartwout's invention every August 24th on National Waffle Day, a commemoration that coincides with the date his patent was issued by the U.S. Patent and Trademark Office in 1869.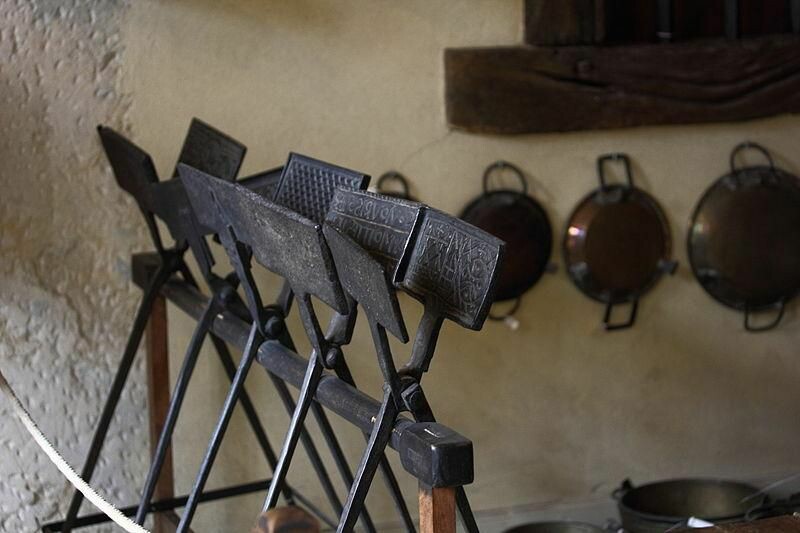 The ancient Greeks had a version that they used to make wafers similar to today's waffles.
In the early days of waffle irons, the plates often included delicate designs, almost like etchings, that left imprints on the waffle.
Swarthout intended to perfect the design by adding a handle and a clasp that would allow the waffle-maker to flip the iron without danger of slippage or burns.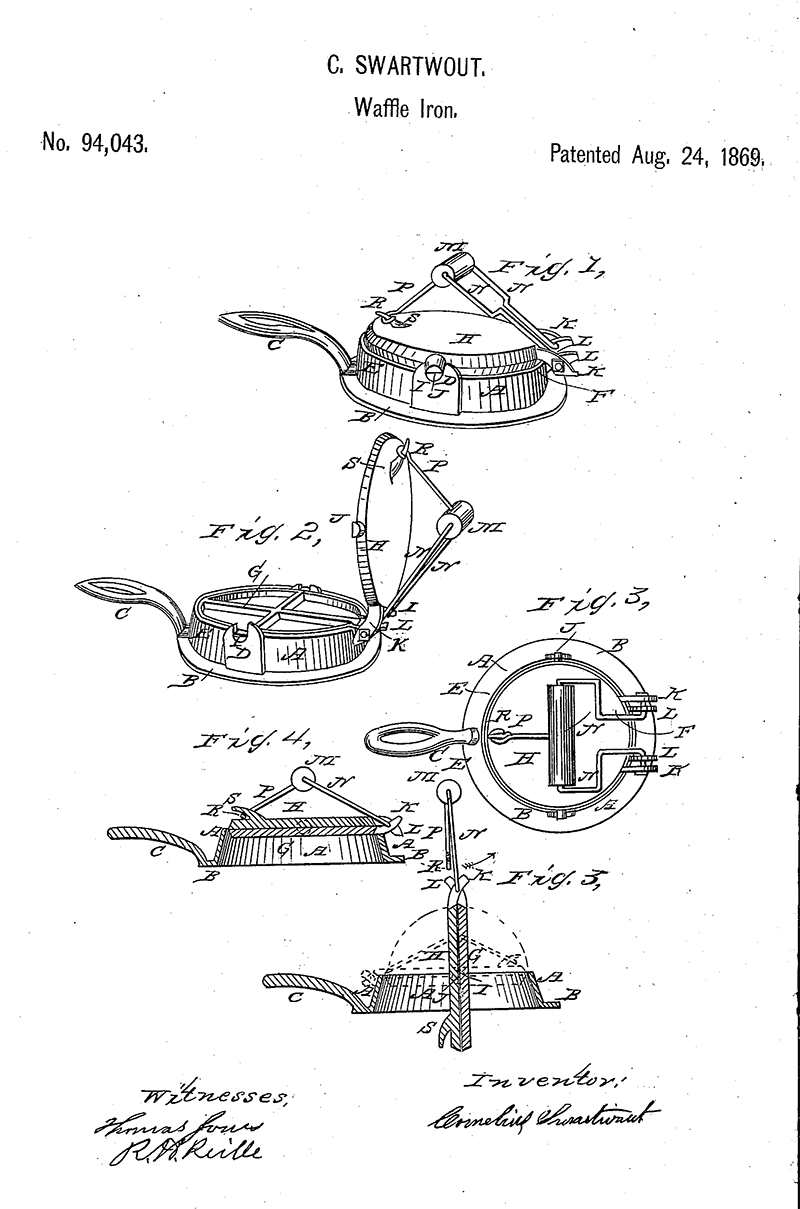 Swarthout

developed the first waffle iron that would sit easily on a wood stove and included a useful handle for opening, closing and turning the device without getting burned. Described as an "Improvement in Waffle-Irons," his invention received
U.S. Patent No. 94,043
, which was assigned to himself, Joseph Foxell, Thomas Jones and Edward W. Millard, all of Troy, New York.
1911 – First electric waffle iron introduced by General Electric.

1953 – Frank Dorsa's Eggo Frozen Waffles are sold in Supermarkets for the first time.

1964 – Belgian Waffles debut at New York's World's Fair.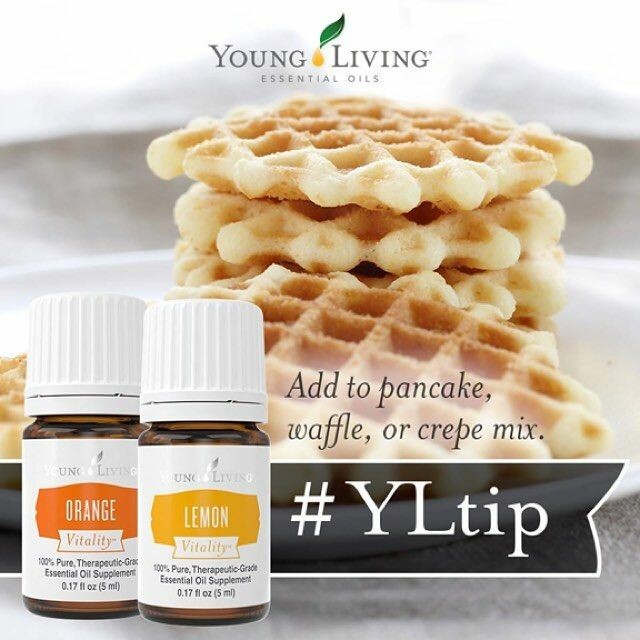 OBSERVE #NationalWaffleDay BY ADDING VITALITY DIETARY ESSENTIAL OILS FOR A BURST OF FLAVOR!
From sweet and syrupy, to sumptuous and savory, the waffle iron has been a source of gastronomic pleasure for multiple generations! Whether you're enjoying waffles for breakfast, lunch, dinner, or a midnight snack, try essential oil infused waffles for a delightful burst of flavor!
Add 1–4 drops of Orange Vitality Dietary essential oil to waffle mix.
Add 1 drop of Cinnamon Bark Vitality Dietary essential oil and 2 drops of Orange Vitality Dietary essential oil to waffle mix.
Add Lemon Vitality Dietary essential oil to plain or vanilla yogurt, put a dollop on waffles and top with berries.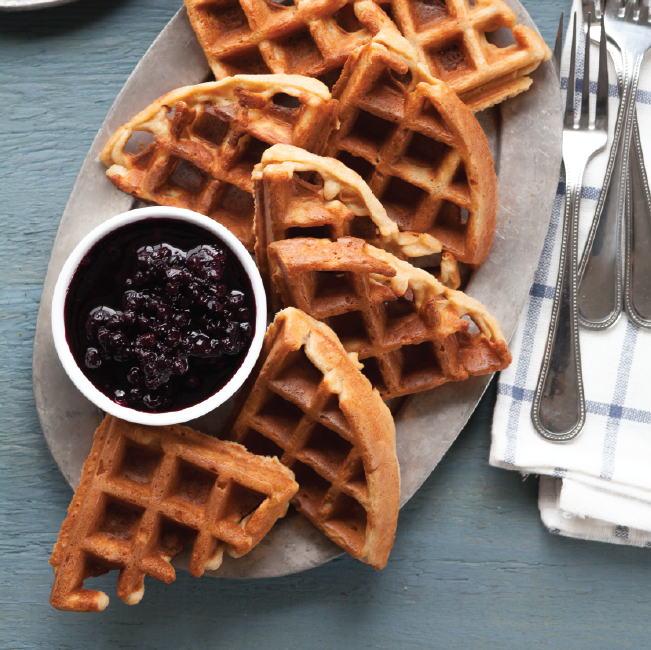 Gluten-Free Yogurt Waffles with Lemon-Lavender Blueberry Syrup
Serving Size: Makes 4 round 8-inch waffles
2 teaspoons baking powder
2 tablespoons coconut sugar
8 ounces plain whole milk yogurt (preferably with a loose consistency)
¼ cup melted coconut oil (plus more for waffle iron)
1 teaspoon vanilla extract
Lemon-Lavender Blueberry Syrup Recipe
1 ½ cups frozen wild blueberries
3 tablespoons fresh lemon juice
In a large bowl, whisk together flour, baking powder, salt, and coconut sugar. In another bowl, whisk together yogurt, eggs, melted coconut oil, and vanilla extract until smooth. Stir egg mixture into flour mixture and mix well to combine. Let batter sit 10–15 minutes for the flour to fully hydrate. While waiting, make the syrup.
Combine the blueberries, honey, and lemon juice in a small saucepan and bring to a boil. Reduce heat and simmer for 5–10 minutes or until the mixture is syrupy. Set aside to cool slightly; then add Lavender and Lemon Vitality essential oils, stirring well to combine.
Heat waffle iron at medium heat and brush with melted coconut oil. Pour ¼ of the batter onto iron and close. Cook until waffle is golden brown and crisp, about 4 minutes. Transfer to a wire rack set on a baking sheet in a low-temperature oven to keep warm; repeat with remaining batter.
Serve immediately topped with the Lemon-Lavender Blueberry Syrup or delicious Yacon Syrup,

a natural alternative sweetener, similar to honey, maple syrup, molasses, or sugar cane syrup.

*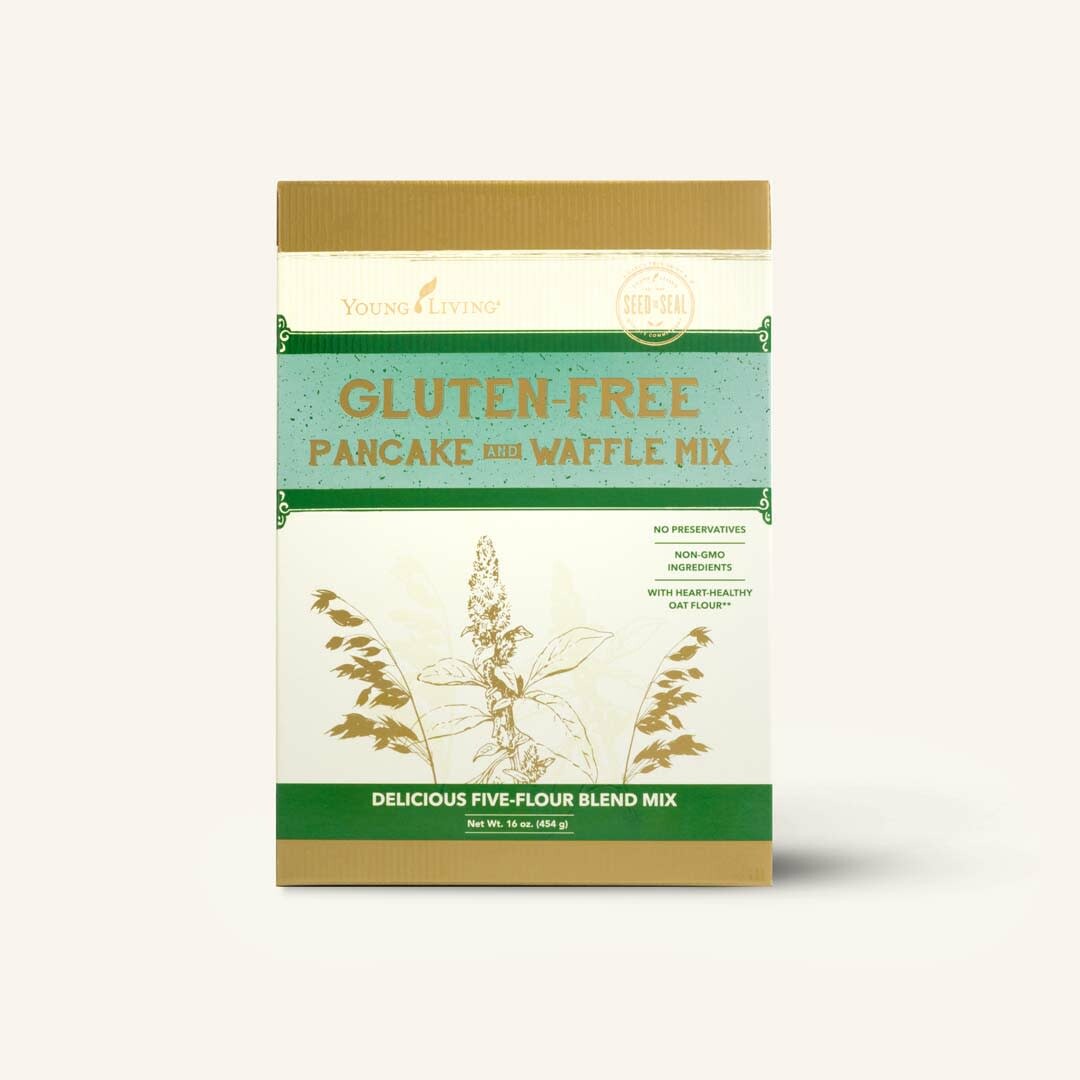 Gary's True Grit® Gluten-Free Pancake and Waffle Mix

For those who are sensitive to gluten, Gary's True Grit® Gluten-Free Pancake and Waffle Mix is a delicious and convenient alternative to all-purpose whole-wheat flour. This unique and delicious combination blends superior ancient grains with nutrient-dense bean flour into an all-purpose baking mix that is great for breakfast and all your baking projects! Gary's True Grit Gluten-Free Pancake and Waffle Mix is a wholesome combination of nutritious whole oat, arrowroot, amaranth, and garbanzo bean flours. It's the perfect addition to a gluten-free, healthy lifestyle. Diets high in soluble fiber from foods such as the gluten-free whole oat flour in Gary's True Grit Gluten-Free Pancake and Waffle Mix may help reduce the risk of heart disease. This gluten-free blend delivers delicious flavor and wholesome nutrients that are not provided by today's all-purpose flours.
Gary's True Grit® Pancake and Waffle Mix


Gary's True Grit Pancake and Waffle Mix is a healthy, nutrient-dense way to start your day off right. It combines ancient einkorn flour with legume flours and wholesome grains for a delicious pancake and waffle mix that boasts 4 grams of protein and 2 grams of fiber in every serving. With its subtly sweet flavor and hearty combination of nutrients, Gary's True Grit Pancake and Waffle Mix is sure to become a favorite for the whole family.*



Use #NationalWaffleDay to post your essential oil infused waffles on social media.
*These statements have not been evaluated by the Food and Drug Administration. Young Living products are not intended to diagnose, treat, cure, or prevent any disease.