Aug 5, 2021 01:33 PM Central
Joyce Fisher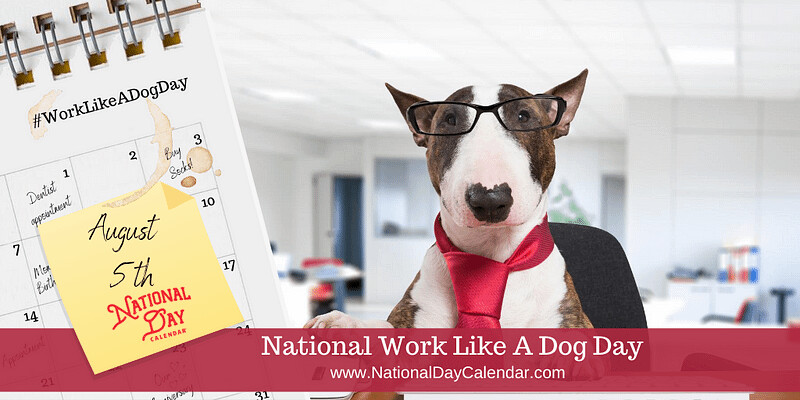 On August 5th, National Work Like A Dog Day urges us to

work like a dog so you can be rewarded with living a dog's life!
HOW TO OBSERVE #WorkLikeADogDay
You can celebrate by either working very hard or – if you'd rather – simply:
Watch videos of working dogs doing what they're trained to do.

Learn about the training of working dogs.

Make a video about your average workday.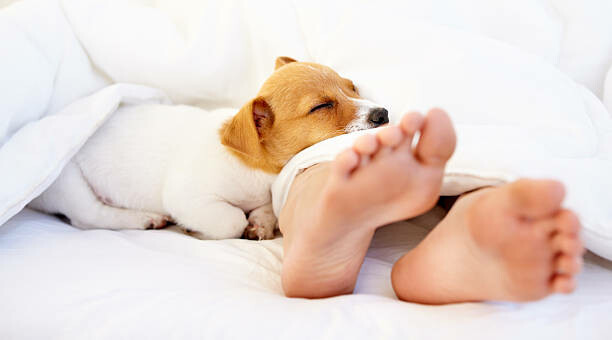 During the Jazz Age of the 1920's, "dogs" was used as a noun to indicate feet. So "my dogs are barking" in 1920 speech meant "my feet are tired and hurting."
When you get home from a day where you worked like a dog, and your feet are "dog tired" you can use essential oils to make a relaxing, refreshing, and rejuvenating bath to soak your feet.
3 cups Epsom Salt

3/4 cup Baking Soda

30 drops Rosemary Essential Oil

30 drops PanAway Essential Oil
Add Epsom salt and baking soda to large glass or metal bow.

Add essential oils.

Stir well with metal or wooden spoon.

Divide into 2 pint-sized Mason jars with lids, or into 1 quart sized air-tight container.

Create a label or tag with these instructions: Add 1/4 cup of foot soak to basin or warm/hot water. Soak 15-30 minutes.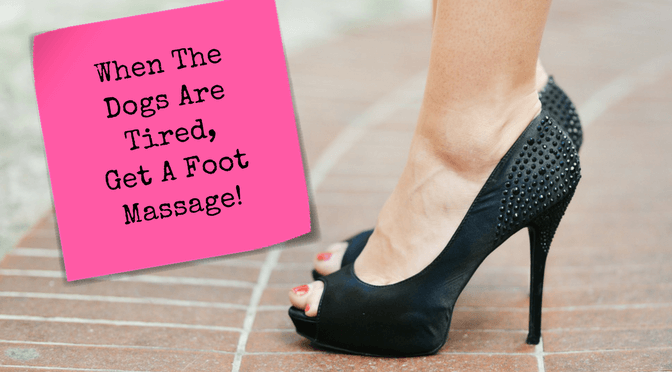 HOW TO USE ESSENTIAL OILS TO MASSAGE AND REFRESH YOUR FEET
Using the correct dilution ratios, massage essential oils into your feet to reap the benefits of the specific oil. To exfoliate your feet, make a foot scrub using essential oils, coconut oil, and sugar. Foot masks and lotions are also popular ways to use essential oils for your feet.
Here are some of the best types of essential oils for heathy feet:
Tea Tree (Melaleuca Alternifolia) essential oil is very versatile, supporting healthy-looking skin and nails, and neutralizing odors.*
Peppermint essential oil contains menthol, which cools and soothes fatigued muscles.*
Rosemary essential oil supports overall well-being, contains antioxidants, and supports a healthy immune system.*
Eucalyptus Globulus is known for its cleansing properties and stimulating scent, and like other eucalyptus oil uses, it is often applied topically or diffused aromatically.

Massage properly diluted eucalyptus oil on your sore and tired feet to soothe them and feel better instantly.*
Lavender essential oil has a tranquil aroma that is soothing to the senses, as well as to the skin when applied topically.
A study published in the Journal of Medical Microbiology
found that lavender oil contains antifungal properties, making it a good choice for athlete's foot and toenail infections.*
Juniper essential oil beautifies and tones the skin when applied topically, making it a great addition to lymphatic and post-workout massage oil blends.*
Thyme essential oil contains the powerful antioxidant thymol that supports the immune system. It's very soothing for muscle cramps and arthritis. Rub diluted thyme oil on your sore and tired feet to revive them.*
Essential oils have been used as folk remedies by many cultures for hundreds of years. These concentrated forms of plants can help your feet get—and stay—healthy.
For more information on #WorkLikeADogDay, visit:
*These statements have not been evaluated by the Food and Drug Administration. Young Living products are not intended to diagnose, treat, cure, or p
revent any disease.