I have some great seasonal wellness box recommendations for this month!
You may be needing to restock some of your favorites that you have run out of or you can try some new things that I recommend below. Young Living's Essential Rewards wellness box order is completely customizable to your specific needs from month to month—get exactly what YOU want, when YOU want it!
Some of the oils that you could grab in your box this month are Basil, Lime, and Citrus Fresh. One of my most favorite diffuser combos for spring is 1-2 drops Basil, 3 drops Lime, and 3 drops Citrus Fresh—your home will be smelling like a delicious glass of basil lemonade!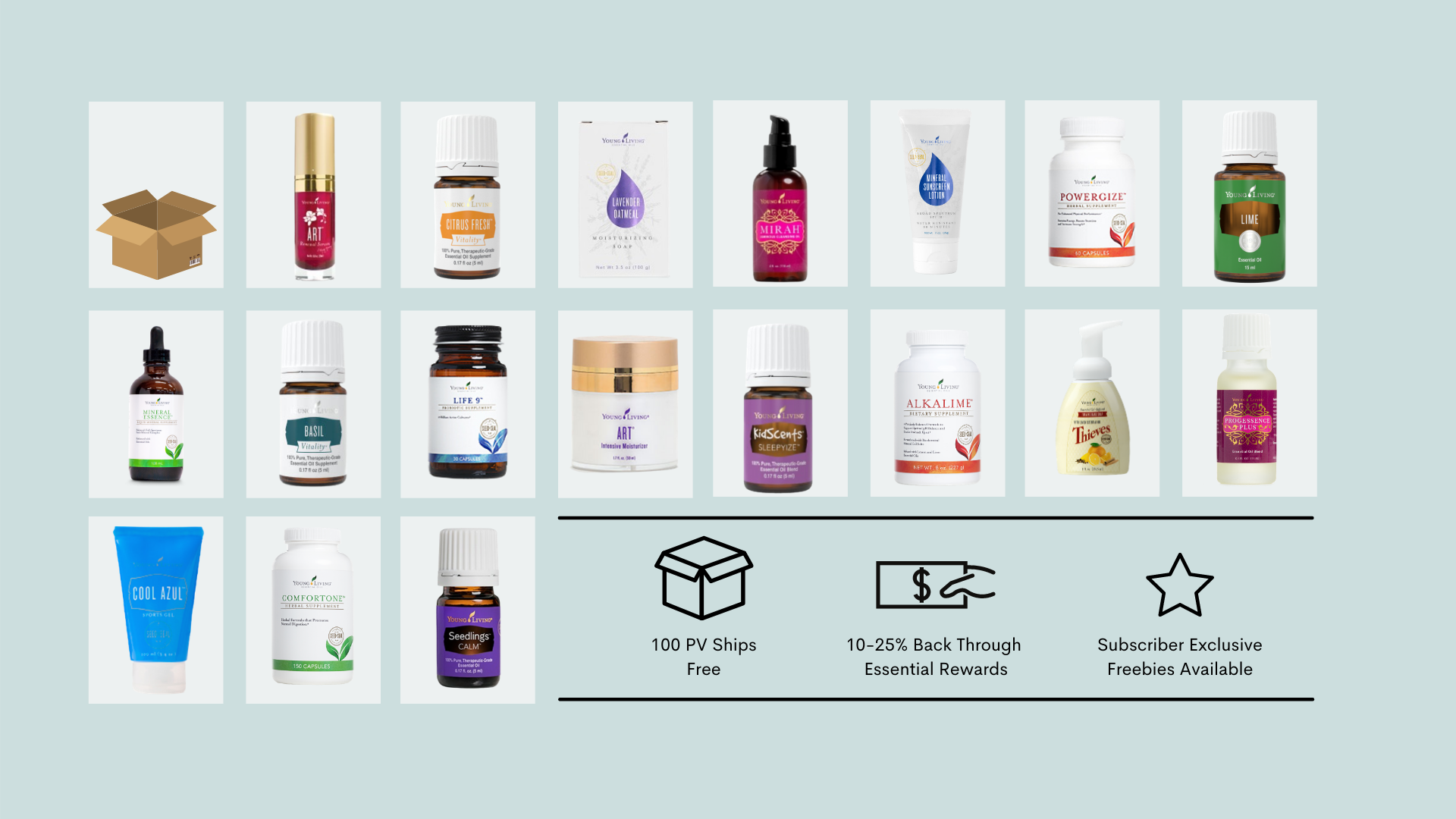 Another option for your box is Progessence Plus Serum. It is amazing at helping you naturally balance your hormones and is great for your skin. Life 9 probiotic and ComforTone are perfect for a happy and healthy gut. And the Mirah Luminous Cleansing Oil is great for taking off makeup and for cleansing the skin. Cleaning your skin with an oil is actually a great way to keep the pH balance of the skin and also not strip your skin of the healthy oils that it needs while keeping your skin hydrated.

And if your mind is on summer like mine is, make sure to grab some of Young Living's Mineral Sunscreen—this one is a member favorite and goes in and out of stock all summer long! And don't forget that if your order is 100 PV+, you will earn FREE shipping! And with any order of 50 PV+ through Essential Rewards, you'll earn an additional 10-25% back in YL store credit, giving you even better pricing on your wellness, home, and body care needs!
Here is the master list of some of my favorites

so you can look them up by product number if you need to

:
Oils
Citrus Fresh Vitality
Item #5619 | $7.75

Lime Essential Oil
Item #3074 | $13.00

Basil Vitality
Item #5583 | $11.50

Kidscents SleepyIze Essential Oil
Item #5307 | $18.00

Progessence Plus Serum
Item #4640 | $40.00

Seedlings Calm Essential Oil
Item #26019 | $13.25

Supplements
Powergize
Item #4748 | $31.75

Life 9 Probiotic
Item #18299 | $30.75

Alkalime
Item #3199 | $37.25

Comfortone
Item #3204 | $36.25

Home & Body
ART Renewal Serum
Item #5175 | $80.00

Lavender Oatmeal Bar Soap
Item #4904 | $11.00

Mirah Luminous Cleansing Oil
Item #23735 | $38.25

ART Intensive Moisturizer
Item #5663 | $69.75

Mineral Sunscreen Lotion
Item #24137 | $31.00

Thieves Foaming Hand Soap
Item #3674 | $14.75

Cool Azul Sports Gel
Item #5436 | $42.75